Wedding Dance/First Dance Preparation
Want to make your wedding extra special? Make your first dance a performance!
---
A Bride and Groom's First Dance together — truly a special moment.
What we can do for you:

We can choreograph a beautiful, romantic performance dance to include lifts and dips, designed for your song, your personalities, your talents, your favorite music!
We can help make your first dance the highlight of your reception, and your guests will be thrilled!
We can help you select a beautiful song and just the right dance to go with it.
We can offer a dance lesson for part or the whole wedding party before the wedding day
Think he can't learn how to dance? If he can drive, he can lead.
Or you can choose a dance lesson for all of your guests as part of the reception, so everyone can have a great time on the floor. Part dance lesson, part comedy routine - Lots of fun, and a great way for your guests to get to know each other!

Don't forget the bride/father dance and groom/mother dance! Or get the whole wedding party in on it. We love flash mobs! Talk to us!




Wedding Dance Preparation: Have you ever been to a wedding and watched as the bride and groom just swayed to their "first dance"? Remember how boring that was? Don't let that happen to your guests! Keep them away from the bar and glued to the sidelines as you amaze them with your performance! The Knot wedding specialists say: "Here's another idea: Take dance lessons and surprise everyone who thinks you've got no rhythm. It'll be a memorable wedding moment, and dance lessons are a fun way to de-stress and bond during your engagement." Here's an example: Youtube First Dance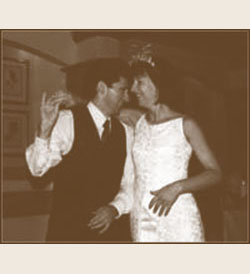 ---
Testimonials......
"When it came time for our first dance, everyone stood up to watch us. After the first part everyone started clapping. During one of the twirls I saw my Mom and her jaw was practically on the floor. She had a huge smile on her face the whole time! It was really great. At the end everyone was clapping and whistling!"

"When Scott and I got back from the honeymoon my Mom told me that no one got a picture of us dancing because everyone was shocked and couldn't take their eyes off of us!! I hope the photographer got some good shots!! We let him know before hand what we were going to do so he was prepared.

"I'm so glad we decided to take dancing lessons! Our first dance will now be very memorable! It was also one of my favorite parts about our wedding! Thanks so much for everything! I'll see if I can't get you a couple of pictures!" — Theresa & Scott
"Hi Lois, We just got back yesterday from our honeymoon :-) Everything was unbelievable!! And the dance went so good...people could not believe it! We had some people cry when they saw it. Again, THANK YOU for everything!" — Courtney and Brad
Read other testimonials here.
Dance Lessons as Couples Therapy
Dance lessons can be great for your relationship. If the lessons and practicing are stressful, your dance instructor can help you work on your communication and trust levels, so that you are supporting each other in this project. Help each other - don't blame! Take responsibility for your own part, and don't yell at each other if you feel the other is not doing it right. Work through it, and have fun. You will have many projects together through your marriage, so it is important that you can figure out how to work together. Your dance teacher should help with this - if not, find another teacher. Dance lessons are fun, and a great way to learn how to work together toward a common goal!