Oscar Casas in Minnesota June 8-14!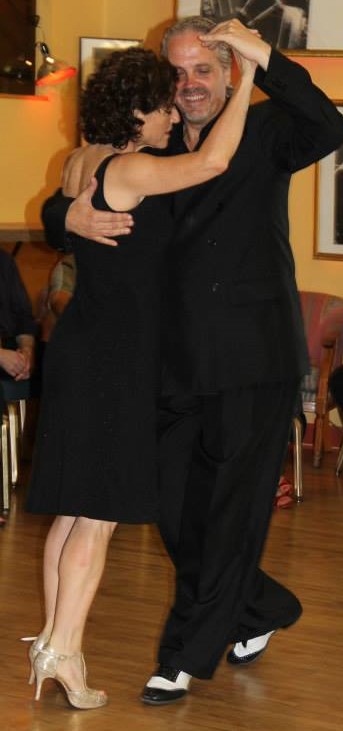 Oscar Casas is visiting Minnesota again! He is a superb teacher who LOVES teaching.He embodies the sheer joy of dancing tango with connection and musicality. His performances are spontaneous and completely improvised. He is SO FUN! Check him out on Youtube—Oscar's videos have over three million viewings!
Oscar Casas grew up in Buenos Aires, breathing tango. His father was a milonguero who organized milongas in Parque Patricios, a tango barrio in Buenos Aires. Oscar is a well-known figure in the milongas of Buenos Aires, and his distinctive style is greatly admired by other milongueros. He is also extremely popular with young tangueros. He teaches with energy and humor, emphasizing concepts, specializing in improvisation, always interpreting the music and respecting the character of the different orchestras. Oscar is especially interested in the dynamics and cadencia of the dance. Everything he teaches is applicable to crowded milongas.
Saturday and Sunday workshop location: Jazzercise Edina Fitness Center 7111 Amundson Ave, Edina, MN 55439
Weekend package: 6 classes................................. $160.00 (Full Time Student: 6 classes .............. $130.00)
Saturday classes or Sunday classes – 3 classes...... $90.00 (Full Time Student: 3 classes ............... $70.00)
Each Class .................................... $35
Early registration 10% discount (for classes) through May 15, 2016. Send check to 3142 1st Ave S, Mpls, MN 55408, Paypal, Google Wallet or visit mndance.com for other payment options.
Privates available! One hour, $110. Please call or email to schedule. View the calendar here: calendar.google.com/calendar/embed?
Workshops! Location Jazzercise Edina Fitness Center 7111 Amundson Ave, Edina, MN 55439
Tentative Class Topics:
Saturday, June 10
12:30–2 p.m.-Boleos milongueros in close embrace. These movements represent musical effects without using space on the dance floor. (Inter Adv)
2:15 p.m.–3:45 p.m.
-The Art of leaning (apilarce). Leaned figures with great female adornments that enhance the connection, the pause and highlights the woman's participation. (Inter Adv)
4:00 - 5:30
-100% Cadence (Cadencia). A mystical classic milonguero movement that softens the general movements through the famous tango suspensions (Inter Adv.):
Sunday, June 11
11:30–1 p.m.
- Milonga as it should be danced. This class teaches how to dance Milonga as a separate and different dance from the tango or waltz. (Inter. Adv)
1:15 p.m.–2:45 p.m.
– Sacadas and contra sacadas- This old tango movement will be reviewed in detail for the pleasure of the dancers. (Advanced)
3:00 to 4:30
- Vals: Walks with crosses are a sophisticated form, full of surprises and musical movement. Walks with crosses requires great technical knowledge enhancing posture and embrace; realizing the elegance of the waltz.
Watch for other opportunities to hang out with Oscar!
More details, locations, times, also on Facebook at Dance with Lois Donnay www.facebook.com/mndance
---
Return to the Home page.